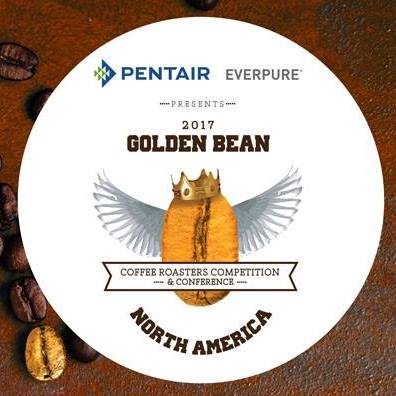 Portland, OR (September 13-17, 2017) – The third annual Golden Bean North America coffee roasters competition and conference took place last week, with approximately 830 coffees submitted for scores in 10 categories. More than 120 coffee roasters tasted and scored coffees for sweetness, fruit acidity, body and balance. The event included coffee seminars and social events for the roasters.
Andy Baker, owner and head roaster at Chocolate Fish Coffee Roasters, with his team scored high enough to receive 2nd Prize Overall and won 3 Silver and 2 Bronze Medals for his coffees.
Silver Medals
Milk Based Espresso – KORU,
Milk based Decaf Espresso, Santa Lucia MWP, Mexico
Pour Over- Misty Valley, Ethiopia.
Bronze Medals
Organic Espresso- Finca San Luis, Colombia
Pour Over- Cerro San Luis Natural, Costa Rica
"I was literally stunned when they announced we won 2nd Place Overall" stated Andy Baker, "after receiving 5 medals already this was an unexpected pleasure". Of the 830 coffees submitted this year over 1/3 were entered in the pour over category showing the US is primarily comprised of filter coffee drinkers, Baker took home a Silver and Bronze in this category.
The Golden Bean contest has been occurring in Australia for 12 years. This was the 3rd year in the US with contest participation increasing by approximately 20 percent over last year according to Golden Bean founder Sean Edwards. The contest is planning to expand to a third country next year in England and Edwards is preparing to follow that with an expansion Southeast Asia. "The ultimate goal" said Edwards, "would be to organize a "world playoff" of Golden Bean gold medal winners from around the globe".
To learn more about Chocolate Fish Coffee Roasters visit www.chocolatefishcoffee.com
To learn more about Golden Bean North America visit www.goldenbean.com